Great ideas deserve to be commercialized
When you would like to make a new design, you want to feel assured the part or assembly meets the functional requirements you envisioned at the start. At the same time, cost-effective manufacturing, quality consistency and predictable performance are key decision factors for selecting your manufacturing partner. Indupol is uniquely positioned to be your sparring partner along the entire development process and manufacturing scale-up, with a track record of many successful projects and an history of creativity in design and processing.
We are experienced in working with very diverse dimensions, shapes, materials and parts. Our own mold making department has extensive experience in building complex shapes and designs. This allows us to help bring your design to life. Additionally, we can advise you on the choice of layer composition, the most cost-effective production techniques and our additional services. Together with you we will find out which material suits best your requirements, if it is FRP (Glass fiber reinforced plastic), CRP (carbon reinforced plastic) or PU (polyurethane).
We are experts in composite materials and can produce any design. Additionally, we will take care of your project from the start (design advice, production decisions, procurement) to the end (logistics, just-in-time delivery). Indupol is your one-stop-shop, because we take care of all your challenges. Please contact us for advice on the best solution for your project!
Unique composite challenges
We produce parts for flight simulators, because it allows us to show what we are capable of. The simulator's parts are very voluminous, which adds to the complexity of handling and molding the parts. The inserts added during the molding phase are among the more complex we handle in shape, placement and material (f.i. honeycomb flooring). Inserts can be laminated or being bond in our according to DIN 6701-A2 certified adhesive bonding department.
After molding, we partially assemble the simulators and ensure the material has the proper finish. The finished simulator needs to closely resemble the airplane it is modelled after. Looks aren't everything, because the simulators also feel and function as are a real airplane's cockpit. Every simulator naturally withstands the stresses and strains in the material, caused by the extreme movements it is subjected to when in motion. Indupol is proud to deliver these complex, high-end products.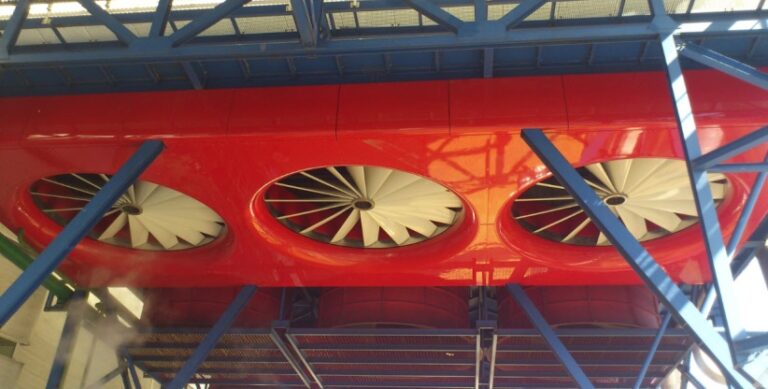 Mechanical stresses and strains
These ventilators and rotors are sold and used all over the world. We make sure that the chosen composites and coatings can handle the mechanical demands and lifetime expectancy of the fans and rotor blades.
The ventilators come in all sorts of sizes, from very small to very large. We make sure the material and mechanical specs are customized according the climate and environmental requirements – ranging from (ant)arctic to hot, sandy desert climes, humid high-altitudes and everything in between.
We build all sturdy composite parts for this high-end trailer tent and take care of assembly up to affixing the tent fabrics. Almost every trailer is customized, due to the different options available for the end-user.
We procure the additional furnishings (such as kitchens, fridges, etc.) as a service to our client. This is our ultimate made-to-order product, because every single trailer tent matches the future owners' wishes. Durable, flexible and built exactly the way they want it to be.
In addition to our reliable parts delivery, we can offer you additional services to make your project run more smoothly. We can provide services in logistics, design, parts procurement and FEM-calculations (Finite Element Method). Our personal and professional approach will leave you satisfied and secure in your choice for Indupol!
FEM-analysis to optimize material composition
Spare parts can be ordered many years after production ceased
Transport and delivery expertise in handling extreme shapes and sizes
Indupol is your one-stop-shop for plug & play solutions
We offer a range of production and finishing techniques for your fiber reinforced polyester (FRP) parts, using a range of fibers such as glass and carbon among others. Our personal approach and open communications make sure that we understand you and your business. We know how to make your composite parts.
You will be offered the best value for money, as we select the most suitable production method for every part in your order. We'll take your estimated batch size, finishing and dimensioning requirements into account. Naturally, our finished composite products have the requisite properties such as strength, flexibility and durability.
We can use colored resins or paint the parts in any color you require. Our assembly line will combine the different parts and a wide range of additional elements, such as cables, handles and fittings.
So, whether you want single composite parts or complete, assembled products, our facilities are experienced in making sure your project is delivered satisfactorily.