Light-weight options that adhere to safety requirements
Many interior and exterior parts in (light) railway vehicles are composite products. Composites are the best choice for covers and paneling for railway, front and rear ends. The different combinations of layer compositions provide the best light-weight option to fully adhere to the safety standards with excellent functionality and esthetic value. Indupol has many years of experience in molding parts for use in railway. We have the know-how to meet different fire and flammability standards and mechanical strengths. Indupol is an IRIS certified company (ISO/TS 22163:2017). Your reliable partner in producing the composite parts you require.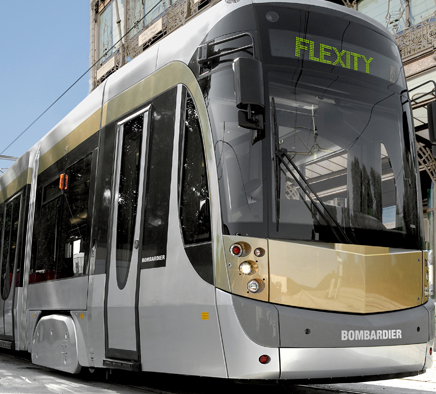 Front and rear end exterior parts
Front and rear ends of (light) rail contain very large exterior parts. We are equipped to handle the voluminous size and complex double curves, while maintaining the detail and finishing. These are necessary to provide both additional safety and the familiar exterior of your train, tram or metro vehicle.
After molding the parts with the requisite layer composition, we then laminate or bond the assembly inserts in our certified adhesive bonding department according to DIN 6701-2 A2. These inserts make sure our exterior front and rear end parts will be well fitted and can be mounted with precision. Naturally, we can provide you with all other exterior paneling for your railway vehicles too.
Interior paneling and driver desks
The interior of a tram or train needs to be sturdy, pleasant to touch and resilient. The paneling used on the inside of a rail coach needs to be able to withstand vandalism and wear and tear, without
losing appeal or functionality. The decision to choose composite materials for your interior allows you to build a light weight passenger vehicle, that is both durable and user-friendly. We can offer you expert advice on what composite best matches your criteria and how to produce your interior parts cost-effectively.
One of the most complex composite interior parts is the driver desk. The complexity is determined by the placement of all the meters, levers etc. as designed. The finishing, gloss and coloring will be perfectly matched to the other elements in the driver's cabin. Producing a driver desk is something we are very comfortable with. We make your composite desk to order. Cables can be added in our own assembly department. Leaving only final assembly up to you, because the inserts to position the desk seamlessly have already been fitted.
Sanitary units in (light) rail
Many sanitary units on trains are produced in composites, to allow a sturdy design, weight reduction, flame retardation and easy-to-clean, seamless surface for extra hygiene.
We are fully equipped to build the entire unit ready-to-use in our own assembly line. If you prefer to assemble it yourself, we'll make sure all required parts are delivered together in a single shipment.
The outer dimensions and mounting points of the finished unit are part of the design, so assembly in your own facilities will be smooth. We'll control all outer dimensions tightly during production to ensure the sanitary unit always fits perfectly. We can provide advice on the application of composites in your sanitary unit designs.
Our FRP (Fiber Reinforced Polyester) fulfil strict norms of flame resistance, smoke emission and toxicity, as there are:
EN 45545-2
DIN 5510-2: 2009-05
BS 6852, 1b
NF F 16-101
UNI CEI 11170.
1. Order spare parts after original production run
2. Tailored packing and transport
3. Parts packaging to suite customer assembly requirements
4. Just-in-time delivery to match your assembly line's demand
5. One-stop-shopping for your plug & play solutions
We offer a range of production and finishing techniques for your FRP parts (Fiber Reinforced Polyester). Our personal approach and open communications make sure that we understand you and your business. We know how to make your composite parts.
You will be offered the best value for money, as we select the most suitable production method for every part in your order. We'll take your estimated batch size, finishing, and dimensioning requirements into account. Naturally, our finished composite products have the requisite properties such as strength, flexibility and durability.
We can use colored gelcoats or paint the parts in any color and finish you require (gloss, matt or textured finish). Our assembly line will combine the different parts and a wide range of additional elements, such as cables, handles and fittings.
So, whether you want single composite parts or complete assembled products, our facilities are experienced in making sure your project is delivered satisfactorily.