Automotive parts demand flexibility
The automotive market requires its suppliers to be flexible, with demand and output fluctuating every day. Indupol is fully equipped to move in sync with your daily production volume variations, working according to IATF certification, using APQP. Your quality composite parts will be delivered in the required daily batch size. We'll set up efficient communications to ensure optimal synchronization with your production and assembly lines. Rest assured that our just-in-time delivery will leave you and your customers happy and satisfied. You need the parts? We will deliver.
Flexible just-in-time delivery
Automotive production throughput of different models varies daily. That's why our delivery 'breathes' in sync with our customers.
We can adapt our just-in-time delivery of parts for your truck, coach or bus daily, within forecast information. Our efficient communications ensure that we deliver the number and type of parts your assembly lines need every day. You know you can depend on us to deliver.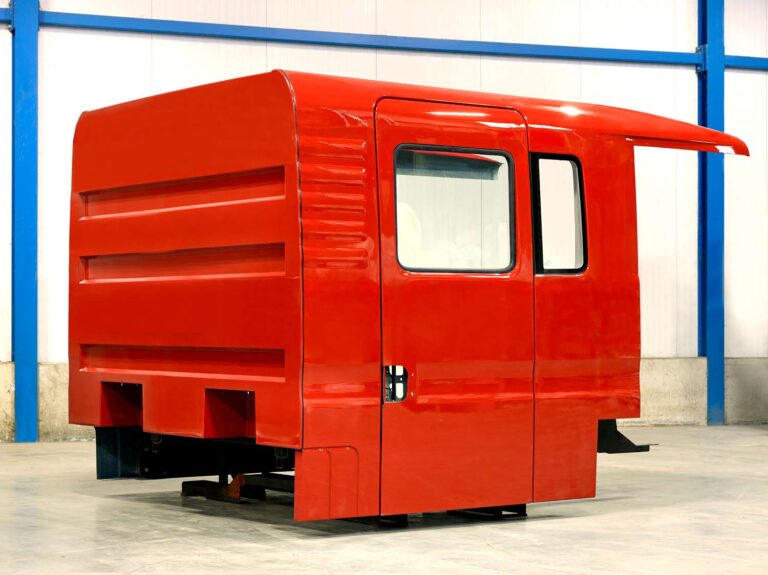 Pre-assembly, insert molding and combined composites
All our FRP (Fiber reinforced polyester) and PU (polyurethane) parts for use in automotive are designed and produced for a long lifespan under high mechanical stress and strain. We can advise your design department on design optimization for cost, production, strength and durability.
Additionally, our production facility is fully equipped to:
add a wide range of inserts (big heads, screw thread, etc.),
pre-assemble handles, electrical components and more,
provide extremely tough and wear resistant polyurethane coatings.
We can even deliver your plug & play cabins or interior units with an integrated polyurethane (PU) flooring for increased durability and lifespan. Your cabins, dashboards or body parts are ready to be mounted on the vehicle upon delivery.
Customization and design flexibility
If you design your vehicle, we support you bring it to life. We can supply the custom parts you need to build your truck, bus or coach, because of:
our own mold production
consultation on design optimization
pre-assembly department
flexibility in production sizes
Do you need high throughput with many similar parts? Do you need small batches or even one-time units, with every batch requiring some design customization? We can handle the production and logistics of your required batch. We deliver both serial and custom parts with integrated inserts. All our parts are built to order.
In addition to our reliable parts delivery, we can offer you additional services to make your project run more smoothly. We can provide services in logistics, design, parts procurement and FEM-calculations. Our personal and professional approach will leave you satisfied and secure in your choice for Indupol!
Order spare parts after serial production run
Advice on weight, durability and cost optimization
Made to order composite parts in every color, quantity, dimension and batch size
Tailored packing and transport
Parts packaging to suite customers assembly requirements
Just-in-time delivery to match your assembly line's demand
High daily throughput tailored to customer's needs
One-stop-shopping for your plug & play solutions
We offer an extensive range of production and finishing techniques for your FRP (Fiber reinforced polyester) and PU (Polyurethane) parts. Our personal approach and open communications make sure that we understand you and your business. We know how to make your composite parts.
You will be offered the best value for money, as we select the most suitable production method for every part in your order. We'll take your estimated batch size, finishing, dimensioning and quality requirements into account.
We can use colored resins or paint the parts in any color you require. Our assembly line will combine the different parts and a wide range of additional elements, such as cables, handles and fittings.
So, whether you want single composite parts or complete, assembled products, our facilities are experienced in ensuring that your project is delivered to your satisfaction.